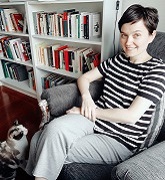 Doctorate in Contemporary History (2018), with a BA in Philosophy (2010) from the UPV/EHU. I concluded several postgraduate studies, MA in Literature and Philosophy, University of Sussex and a Master in Feminists and Gender Studies (UPV/EHU), Euskal Herriko Unibertsitatea. My research focuses on the analysis of the construction of the sexual difference and gender identities in the Basque Country during the central decades (1840-1876) of the nineteenth century paying special attention to literary sources. I am especially interested in the analysis of the changes on the conception of the body and the ways in which those changes affected the construction of gender. Besides, I try study the complex relations and interactions between the categories of gender, class, nation and religion in the construction of identities.
I have published several works:
(2018). The Basque Enlightenment: New Visions of Gender in the Crisis of the Antiguo Régimen. In Roberta Johnson and Silvia Bermudez (eds.) A new history of Iberiam feminisms. Toronto: University of Toronto Press, 82-90.
(2018). Generoa Antzinako Erregimenean: Manuel Larramendiren ikuspuntua eta bere itzala, Sancho el Sabio: Revista de cultura e investigación vasca, Extra 2, 107-127.
(2017) together with Aintzane Rincón y Maialen Aranguren: Historiagintzaren ikuspegi berriak: teoria eta praktika. Bilbao: UEU y UPV/EHU.
(2016). Mujeres viriles en el siglo XVIII. La construcción de la feminidad por el discurso foralista de Manuel de Larramendi. Historia Contemporánea, 52, 9-42.
(2014). Diferentzia sexualaren eraikuntza: gorputzen desnaturalizazioa. In Alaitz Aizpuru and Bakarne Altonaga (eds.), Diskurtsoak, eraikuntzak, gorputzak. Gorputzen eta binarismo sexualaren eraikuntzaz. Bilbao: Udako Euskal Unibertsitatea.
(2012). Gizakia eta animalia: harreman berriak pentsatzen. In Andoni Olariaga, Iban Galletebeitia, Alaitz Aizpuru and Bakarne Altonaga (eds.), Euskal Herriko pentsamenduaren gida. Bilbao: Udako Euskal Unibertsitatea.
http://www.inguma.eus/egilea/ikusi/bakarne-altonaga-begona
https://dialnet.unirioja.es
bakarne.altonaga@ehu.eus