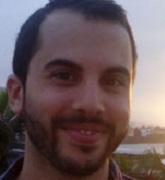 After having earned a BA in History from the University of La Laguna (ULL), Tenerife, in 2012, Álvarez obtained an interuniversity MA in Contemporary History from the University of the Basque Country (UPV/EHU), where he has been working on his PhD thesis in Contemporary History since 2016. In the 2015 call, he was awarded a pre-doctoral trainee research fellowship (PIF) by the UPV/EHU.
The objective of his research is to analyse the evolution of the meaning of the female body during the first Francoism, employing an approach based on the legal documents of the Juvenile Court of Bilbao, together with material from state archives. This is supplemented by an analysis of other primary sources (legislation, medical manuals, Catholic literature, Falangist publications, etc.). From an intersectional perspective, Álvarez's intention is to analyse how the female body was constructed between the 1940s and 1960s, bearing in mind the crossing of different variables (gender, class, age, religion and nation) which were shaped in different ways over time.
Álvarez has recently completed a research stay at the Faculty of Philosophy and Literature of the University of Buenos Aires (UBA), under the supervision of Isabella Cosse, from July to October 2019. Likewise he has participated in several national and international congresses.
He is the author of several publications, including the following:
 "Jóvenes en `el lecho de Procusto´. Una aproximación a los ideales de género de posguerra", Arenal, Revista de historia de las mujeres, 27:2 , pp. 331-354
Book review: Remedio Álvarez et al. (coords.): Maternidad lesbiana: Del deseo a la realidad, Barcelona-Madrid, Editorial Egales, S.L., 2018. In: Feminismo/s, 33 (2019), pp. 351-354.
Book review: Neus Roig: No llores que vas a ser feliz. El tráfico de bebés en España: de la represión al negocio (1938-1996), Barcelona, Ático de los Libros, 2018. In: Pasado y Memoria: Revista de historia contemporánea, 18 (2019), pp. 473-476.
His other publications can be consulted at:
His other publications can be consulted at:
https://ehu.academia.edu/Carlos%C3%81lvarezFern%C3%A1ndez
Research ID: F-6425-2016
ORCID: 0000-0002-2554-080X
Email address: carlosalvfernandez@gmail.com