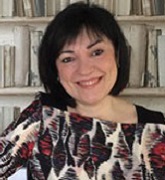 With a PhD from the State University of New York and the University of the Basque Country (UPV/EHU), Nerea Aresti is a professor at the latter specializing in gender history. Her work revolves around the study of identities and the way in which discourses shape the experience of male and female subjects. Worthy of special mention is her pioneering work in historical studies of masculinities in Spain.
Aresti began her research career by probing into the ideals of femininity and masculinity in contemporary Spain, and into the sexual reform movement of the 1920s and 1930s. She has then gone on to study the cultural meaning of the body, the category 'women', the construction of sexual difference by Basque nationalism, Spanish masculinity with respect to the crisis of 1898 and Spanish nationalism itself, and the discursive strategies of contemporary feminism.
Books:
Masculinidades en tela de juicio. Hombres y género en el primer tercio del siglo XX (2010).
Médicos, donjuanes y mujeres modernas. Los ideales de feminidad y masculinidad en el primer tercio del siglo XX (2001).
With Karin Peters and Julia Brünhe, she has co-edited, ¿La España invertebrada? Masculinidad y nación en los inicios del siglo XX, Comares 2016, collaborating in the chapter, 'El langile respetable. Masculinidad, moral y trabajo en el nacionalismo vasco'.
Other recent publications:
With Miren Llona, "Mary Nash, tras las huellas del feminismo histórico". Mujeres, dones, mulleres, emakumeak. Estudios sobre la historia de las mujeres y del género (ed. Teresa M. Ortega, Ana Aguado y Elena Sánchez Sandoica), Madrid, Cátedra, 2019, 359-378.
"1932. El divorcio llega a España", Historia Mundial de España (dir. Xosé M. Núñez Seixas), Barcelona, Destino, 2018, 752-758.
"La historia de género y el estudio de las masculinidades. Reflexiones sobre conceptos y métodos", Feminidades y masculinidades en la historiografía de género (Henar Gallego ed.), Granada, Comares, 2018, 173-194.
"La peligrosa naturaleza de Don Juan. Sexualidad masculina y orden social en la España de entreguerras", Cuadernos de Historia Contemporánea 40, 2018, 13-31.
With Maialen Aranguren, "Women Above All: The Autonomous Basque Feminist Movement (1973-1994)", A New History of Iberian Feminism (Silvia Bermúdez y Roberta Johnson ed.), Toronto, University of Toronto Press, 2018, 328-335.
"El gentleman y el bárbaro. Masculinidad y civilización en el nacionalismo vasco (1893-1937)", Cuadernos de Historia Contemporánea 39, 2017, 83-103. 2018 Manuel Pérez Ledesma Prize (Modern History Association).
"La hombría perdida en el tiempo. Masculinidad y nación española a finales del siglo XIX", Hombres en peligro. Género, nación e imperio en la España de cambio de siglo (XIX-XX), (ed. Mauricio Zabalgoitia Herrera), Iberoamericana/ Vervuert, Madrid-Frankfurt, 2017, 19-38.
'Cuestión de dignidad. Género, feminismo y culturas políticas', in Carlos Forcadell and Manuel Suárez Cortina (eds.), Las culturas políticas en la España de la Restauración y la República, 1875-1936, Marcial Pons y PUZ 2015, 85-110
'Generoa, gorputzak eta historia', in Alaitz Aizpuru and Bakarne Altonaga (coords.), Diskurtsoak, eraikuntzak, gorputzak, UEU 2014, 73-95.
'De heroínas viriles a madres de la patria. Las mujeres y el nacionalismo vasco (1893-1937)', Historia y Política 31 (2014), 281-308.
'The Battle to Define Spanish Manhood', in A. Morcillo (dir.), Memory and Cultural History of the Spanish Civil War. Realms of Oblivion, Brill 2014, 147-177.
'Sexualité et progrès dans l'Espagne des années vingt et trente du XXe siècle', in Jean-Louis Guereña (dir.), Sexualités occidentales (xviiie-xxie siècles). Discours, practiques, représentations, PUFR 2014, 47-74.
'Masculinidad y nación en la España de los años 1920 y 1930', Mélanges 42-2 (2012), 55-72.
'A la nación por la masculinidad. Una mirada de género a la crisis del 98', in Mary Nas (coord.), Feminidades y masculinidades. Arquetipos y prácticas de género, Alianza 2014, 47-74.
'Los argumentos de la exclusión. Mujeres y liberalismo en la España contemporánea', Historia Constitucional 13 (2012), 407-431.
'Juegos de integración y resistencia. Discursos normativos y estrategias feministas (1860-1900)', Historia Social 68 (2010), 25-46.
'The Gendered Identities of the "Lieutenant Nun". Rethinking the Story of a Female Warrior in Early Modern Spain', Gender & History 19-3 (2007), 401-418.
'Shaping the Spanish Modern Man: The Conflict of Masculine Ideals through a Court Case in the 1920s', Feminist Studies 33-3 (2007), 606-631.
'La categoría de género en la obra de Joan Scott', in Cristina Borderías (ed.), Joan W. Scott y las políticas de la historia, Icaria 2006, 223-32.
https://ehu.academia.edu/NereaAresti
http://orcid.org/0000-0001-8713-5220
nerea.aresti@ehu.eus