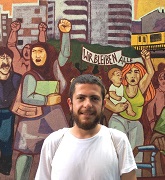 Raúl Navarro-Méndez has a BA in Sociology from the Autonomous University of Barcelona (UAB), specialising in Gender Studies, and an MA in Feminist and Gender Studies from the University of the Basque Country (UPV/EHU). He is currently writing his PhD thesis, in the framework of the Feminist and Gender Studies programme, at the Department of Contemporary History of the UPV/EHU. In 2017, he was awarded a pre-doctoral research fellowship at the same university.
Navarro-Méndez's PhD thesis focuses on the study of the historical construction of the homosexual subject in Spain in the 1920s and 1930s, the period prior to the Civil War. His intention is to determine the categories shaping the homoerotic experience and to gauge the capacity of subjects to redefine the terms imposed by normative discourses. Accordingly, he aims to assess the possibility that certain homosexual circles had to create counter-hegemonic discourses in Spain in the face of new political and scientific paradigms.
Navarro-Méndez has completed a post-doctoral research stay at the Research Centre for the Cultural History of Sexuality of Humboldt University and at the Magnus Hirschfeld Gesellschaft Research Centre in Berlin.
Further information at:
https://metaaprendizaje.academia.edu/raulnavarromendez
Email address: