Ariane Martinez Aretxabaleta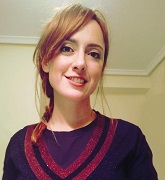 After obtaining a BA in Fine Arts from the University of the Basque Country (UPV/EHU) and an interuniversity MA in Contemporary History, Martínez Aretxabaleta continued her studies in the homonymous PhD programme under the supervision of Nerea Aresti. Her first two years were subsidised by the R&D&I programme 'Zabalduz: Trainee Research Staff in Collaboration with the Productive and Social Environment', while also working in the research project jointly run by the UPV/EHU and the Fine Arts Museum in Bilbao. Martínez Aretxabaleta is currently combining her research activities with lecturing.
With an interest in gender and art history, Martínez Aretxabaleta's line of research focuses on analysing identity-building processes and the capacity of art to (re)produce those models and to give new meaning to reality. In her PhD thesis, which focuses on the Basque Country at the end of the nineteenth century and the first decades of the following one, she performs an analysis on the political cultures of mass society during that period through their expression in the cultural realm, specifically in the visual arts (especially painting, but also sculpture, drawing and etching). She thus attempts to inquire into how art, as a social and political agent, contributed to build class, nationalist and gender identities.
Martínez Aretxabaleta has presented some of the finding that she has obtained to date at different congresses and seminars, the most recent being as follows: 'Nation and Gender in the Paintings of Ignacio Zuloaga', III International Congress of Young Researchers, 'The Hispanic World: Culture, Art and Society', University of Leon, November 2017; 'Political Cultures in Construction. Gender, Nation and Class in Basque Art (1876-1936)', Methodology in Construction Seminar, Complutense University of Madrid (UCM), February and March 2018; and 'Femininities, Masculinities and Nation in the Paintings of Gustavo de Maeztu. An Initial Interpretation', II Scientific Encounter of the Association of Young Socio-cultural Researchers (AJIES), University of Oviedo, March 2018.
Martínez Aretxabaleta's publications can be consulted at:
https://ehu.academia.edu/ArianeMart%C3%ADnezAretxabaleta
https://www.researchgate.net/profile/Ariane_Martinez_Aretxabaleta2
https://orcid.org/
Email address: ariane.mrtnz@gmail.com