Aritza Sáenz del Castillo Velasco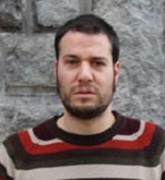 PhD in History from the UPV/EHU, where he defended his dissertation entitled 'La participación de las mujeres en el mercado laboral de Vitoria-Gasteiz 1950-1975', directed by Pilar Pérez Fuentes, PhD, which was awarded the Micaela Portilla Prize for the best dissertation on women's and gender studies at the UPV/EHU (2013).
His main lines of research revolve around social history and the history of women and gender with a particular interest in the Franco era, on which has published various papers, noteworthy among them 'Las damas de hierro', 'Las amas de casa. Sujeto constructor de derechos durante el franquismo', among others. As outgrowth of this research work, he has also recently directed a photography exhibit on the work of women in the contemporary era. The most noteworthy of his current projects is a study on the evolution of domestic employment during the Franco period.
He is currently a professor in the Social Sciences Teaching Department at the UPV/EHU.
http://orcid.org/0000-0002-9302-0830
https://dialnet.unirioja.es
https://www.researchgate.net