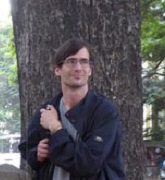 Beorlegui's line of research deals with the analysis of the Spanish Transition, modernity, subjectivities and memory during the last third of the twentieth century. Theoretically, his work revolves around the history of the radical left and social movements, the new cultural history and the history of emotions. As regards the methodology employed, he has focused on the qualitative treatment of sources, especially oral ones and life histories, both topics on which he has delivered several keynotes.
Beorlegui defended his PhD thesis, 'The Experience of the Spanish Transition in the Basque Country. Memory, Subjectivity and Utopia (1976-1986)', written in both Spanish and English, which was published under the title of 'Transition and Melancholy' in 2017. He has also published papers in national and international journals.
Similarly, he has participated in a large number of events in more than 20 countries and is organically linked to the International Oral History Association (IOHA), where he currently represents Europe.
http://independent.academia.edu/DavidBeorlegui
https://es.linkedin.com/in/david-beorlegui-zarranz-42725bb0
dbeorza@yahoo.es