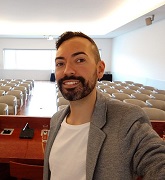 After earning a BA in History from the University of La Laguna (ULL), Tenerife, Abel Díaz took an interuniversity MA in Contemporary History at the University of the Basque Country (UPV/EHU), where he is currently working on his PhD thesis in Contemporary History, 'Homosexuality and Normative Masculinity in Francoist Spain (1939-1976)'. In the 2015 call, he was awarded a pre-doctoral trainee research fellowship (PIF) by the UPV/EHU. Furthermore, he has recently completed a research stay at the Gino Germani Research Institute of the University of Buenos Aires (Argentina).
The aim of Díaz's pre-doctoral research project is to analyse the historical construction of homosexual identity during the Franco dictatorship from a non-essentialist perspective, on the basis of the analysis of the social meanings that homosexuality acquired in each discourse throughout this time. Specifically, his research envisages an in-depth study of the different mechanisms employed to criminalise homosexuality, basically through legislation, which at the time found its most significant expression in the Vagrancy Act. But, at the same time, the constituent effects of the building of a homosexual identity in subjects will be analysed following a productive hypothesis in Foucauldian terms. In this sense, the recuperation of sources will go beyond expert knowledge (medicine, psychiatry and legislation) to offer an account of broader phenomena inherent to other imaginaries of sexuality, such as popular ones.
His work will critically combine the theoretical-methodological traditions of the research groups of the universities where he has completed his training, in the framework of post-social history, placing the accent on discourse and the body as producers of meanings of reality. Additionally, the gender perspective will be a singular aspect of this analysis, directly affecting the hypotheses employed to inquire into sexuality and its links to sexual difference, following the proposals developed by Nerea Aresti.
Díaz's publications can be consulted at:
https://revistas.ucm.es
https://metaaprendizaje.academia.edu
Email address: abeldzdz@gmail.com