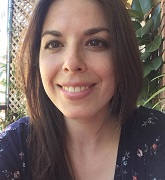 With a BA in History from the University of Oviedo (2011) and an Erasmus Mundus Gemma Master's degree in Women's and Gender Studies from the University of Oviedo and the University of Hull (2012-2013), García Fernández went on to defend her PhD thesis entitled, '"Two of the Same flesh". Marriage, Love and Sexuality in Francoism (1939-1975)', at the University of Oviedo (2019). In her thesis, she analyses the evolution of the ideals of love and sexuality in Francoist Spain, placing special emphasis on its relationship with the transformations in religious morality during the county's developmentalism and late-Francoist periods.
García Fernández was awarded a pre-doctoral fellowship grant by the Severo Ochoa Research and Lecturer Training programme of the Principate of Asturias (2013-2017) to research and write her PhD thesis. Furthermore, she has completed research stays at Rutgers University (New Jersey, USA), Glasgow University and the University of Barcelona (UB). She is currently a research fellow at the UPV/EHU (2019), which has allowed her to join the 'Modern Experience' research group, under the supervision of Nerea Aresti.
García Fernández's lines of research include the history of sexuality and gender in contemporary Spain, especially during the 1960s and 1970s. In particular, she is interested in the construction of sexual love and its relationship with religious morality and sensitivities, including it as a relevant factor in the context of the crisis of National Catholicism. With her research, her intention is to incorporate sexual and emotional variables as symbolic elements that interrelate with other factors and which allow for exploring cultural changes linked to the conceptions of politics, authority and power relations, understood in the framework of the crisis of Francoism. In this analysis, gender understood from a relational perspective is an essential category, which implies considering the role of sexuality and the affections in the construction and redefinition of the ideals not only of femininity, but also of masculinity.
García Fernández's publications include the following:
'De la castidad a la rebeldía. La sexualidad femenina en la prensa del segundo franquismo (1960-1975)', Babel. Littératures plurielles [in press].
'Gender Metaphors in Representations of the Biological Body. An Analysis of Popular Medical Literature Published in Franco's Spain', Cultural History. Journal of the International Society for Cultural History 6.2 (2017): 209-226.
'Sexualidad y armonía conyugal en la España franquista. Representaciones de género en manuales sexuales y conyugales publicados entre 1946 y 1968', Ayer. Revista de Historia Contemporánea 105.1 (2017): 215-238.
'El asesinato de Conchita Robles. Un caso de violencia contra las mujeres en la España de los años veinte', in Cristian Ferrer and Joel Sans, Fronteras contemporáneas: Identidades, pueblos, mujeres y poder (Universidad Autónoma de Barcelona, 2017), 449-466.
'"Parir para la patria". El control del embarazo y el parto en las primeras décadas del franquismo (1939-1955)', in Sonia García Galán, et al., Gestaciones y nacimientos bajo control. El parto en las edades moderna y contemporánea (Gijón: Trea, 2014), 129-147.
'"Nuestro puesto está en el hogar". Los campamentos femeninos en Asturias durante el primer franquismo', El futuro del pasado 3 (2012): 137-159.
Email address:  garciafmonica@gmail.com
Further information:  https://metaaprendizaje.academia.edu/garciafmonica