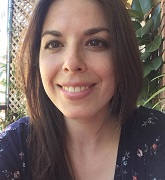 With a BA in History from the University of Oviedo (2011) and an Erasmus Mundus Master's degree in Women's and Gender Studies from the University of Oviedo and the University of Hull (2012-2013), García Fernández went on to defend her PhD thesis at the University of Oviedo (2019). Her work has been awarded by the Spanish Association for Women's History Research (AEIHM), the Association for Spanish and Portuguese Historical Studies (ASPHS) and the International Society for Cultural History.
García Fernández was awarded a pre-doctoral fellowship grant by the Severo Ochoa Research and Lecturer Training programme of the Principate of Asturias (2013-2017) to research and write her PhD thesis. Furthermore, she has been a visiting scholar at Rutgers University (New Jersey, USA), Glasgow University, the University of Barcelona (UB) and the University of Lisbon. Between 2020 and 2022 she was a research fellow at the UPV/EHU. In February 2022 she joined the Centre for the History of Ibero-America (CHIA) at the University of Leeds as a Margarita Salas postdoctoral fellow.
Her lines of research include the history of sexuality and gender in contemporary Spain, especially during the 1960s and 1970s. In particular, she is interested in the construction of sexual love and its relationship with religious morality and sensitivities, including it as a relevant factor in the context of the crisis of National Catholicism. With her research, her intention is to incorporate sexual and emotional variables as symbolic elements that interrelate with other factors, and which allow for exploring cultural changes linked to the conceptions of politics, authority and power relations, understood in the framework of the crisis of Francoism. In this analysis, gender understood from a relational perspective is an essential category, which implies considering the role of sexuality and the affections in the construction and redefinition of the ideals not only of femininity, but also of masculinity.
Recent publications
• Dos en una sola carne. Matrimonio, amor y sexualidad en la España franquista (Granada: Comares, 2022).
• "Representations of Motherhood in Late Francoist Spain: From Catholic Discourses to Early Feminist Critiques", special issue Rethinking Motherhood in the 21st Century: New Feminist Approaches, coords. Inmaculada Blasco and María Dolores Serrano Niza, Feminismo/s 41 (2023), pp. 131-157.
• "From National Catholicism to Romantic Love. The Politics of Love and Divorce in Franco's Spain", Contemporary European History 31.1 (2022), pp. 2-14. Article awarded with the Contemporary European History Prize (2021).
• "La frígida y el donjuán. Sexualidad, género y nación en el cine y la cultura popular del tardofranquismo", Bulletin of Spanish Studies 98.3 (2021), pp. 411-436.
• "De la castidad a la rebeldía. La sexualidad femenina en la prensa del segundo franquismo (1960-1975)", Babel. Civilisations et sociétés 20.2 (2021), pp. 63-96.
• "Entre la norma y el deseo. Amor, género y sexualidad en la España de los años cincuenta", in Miguel Ángel del Arco Blanco and Claudio Hernández Burgos (eds.), Esta es la España de Franco. Los años cincuenta del franquismo (1950-1959) (Zaragoza: PUZ, 2020), pp. 227-248.
Email address:  garciafmonica@gmail.com
Further information:  https://metaaprendizaje.academia.edu/garciafmonica